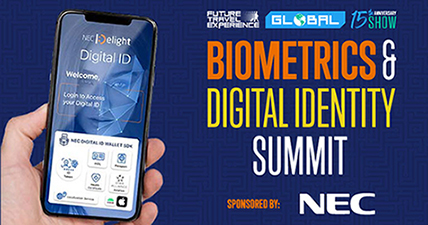 Biometrics & Identity Digital Summit Use Cases
2021 Future Travel Experience Conference & Exhibition
Key executives from Star Alliance, Lufthansa and SITA discuss how NEC's digital identification platform, NEC I:Delight, improved the travel experience for frequent flyers at airports around the world and what lessons they learnt along the way during implementation.


---

NEC I:Delight is a complete Digital ID management platform that enables touchless traveler verification and secure transactions.
Top 5 reasons airports and airlines deploy NEC I:Delight:
Safety for travelers and employees alike, verifying identity with face masks in place

Efficiency enabled by processing passengers faster with fewer touches and interactions

Interoperability with existing technologies at airports, as well as iOS and Android apps

Scalability to expand capabilities, including beyond the airport to car rental and hotels

Privacy controlled by passengers who opt in and choose how their Digital IDs are used
ESSENTIAL: NEC I:Delight uses top-rated biometrics from
National Institute of Standards and Technology (NIST)

NEC I:Delight in action today

"First and foremost, it will offer a seamless customer experience. Second, it will offer the hygiene safety experience that customers are expecting coming out of the coronavirus crisis. But importantly, for many, many airports, infrastructural constraints have been a problem. And biometrics solutions will take away some of those infrastructural concerns."

Jeffrey Goh, CEO, Star Alliance

Ideal Solutions, Ready to Deploy
Passengers who enroll choose who can access their Digital ID, travel information and any linked payment accounts for expedited processing throughout the terminal and beyond.
Baggage check

Security verification

Retail biometric payment

VIP lounge access

Wayfinding

E-gate boarding

Coming soon: car rental, hotel check-in and more

Face Identification
Keep protective face coverings in place. NEC's advanced algorithm will identify enrolled travelers by the portion of face visible above their masks.

It takes just a second to process an image after the traveler approaches a camera stand. Travel documents linked to the encrypted Digital ID authenticate the passenger and green light their journey.

Each solution is developed to accommodate privacy requirements of each vendor and applicable local or national regulations. The system has been designed in compliance with data protection laws, with minimal personal data safely stored within the platform.