Our Software Advantages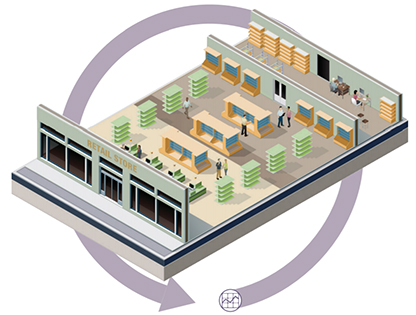 How does our software work to ensure a memorable in-store experience?

Front Counter
Stanchion Store controls all aspects of the POS sales tasks. It provides the ability to configure the register's user interface to suit specific needs and handle any sales scenario. Comprehensive capabilities even include special sales tasks such as product searches, price lookups and receipt reprinting.

Back Office
Stanchion Store software features enterprise-level, back-of-store capabilities, with easy-to-use product-configuration and system administration tools right at your fingertips. Back-of-store features enable easy system management while supporting global POS terminals.

In-Store Productivity
Robust enterprise store applications deliver a set of fast, flexible tools for managing shelf labels, reporting data and producing POS-display slide shows to promote products, services and campaigns. You can define and activate sophisticated retail promotions on the fly, taking advantage of real-time data. Stanchion Store instantly connects to all store systems as part of its master data repository, providing the flexibility to effectively manage integrity for all stores.

Real-Time Architecture
On-demand local reports instantly empower local-level decisions to maximize sales on a per-market or per-store basis. Hyper-local configurability provides the customization required of disparate market demands and leads to incremental sales that directly affect your bottom line.