The Time Is Now
When committed to Smart Enterprise practices, significant synergies can be established to integrate communications and business applications with a solid IT infrastructure.

The result is a resilient, agile and predictive organization that operates cost efficiently while providing better services using the latest business applications. Employees gain full command of their own work environment to function more productively and provide customers with tailored enhanced experiences.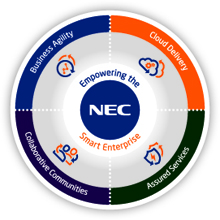 By embracing solutions for Smart Enterprise, organizations can:
Transform
Embrace the digital era with IT empowered business practices.
Encourage
Promote always, everywhere employee involvement to drive productivity.
Innovate
Enhance business networks for improved operational flexibility and efficiencies.
Reinvent
Escalate customer engagement models to foster and drive customer value.