Defense &
Intelligence
You will see how our advanced technologies predict behavior and proactively mitigate security threats while our analytical intelligence reliably collects and directs actionable insight when and where it is needed the most through biometrics authentication, artificial intelligence (AI) and fiber-optic sensing.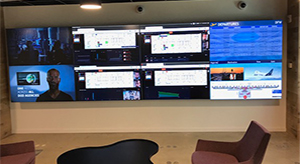 Intelligent Perimeter Intrusion Detection System (iPIDS): Physical border and facility protection through fiber optic sensing and machine learning based artificial intelligence.
NeoScan 45®: Mobile units, offer 10-print mobile biometric collection capabilities to enhance existing fixed-platform capabilities to allow collection of biometrics in the field.
Smartscan™: A scalable, secure and easy to operate solution that manages forensic-grade fingerprint, palm print, facial and iris images.
Integra-ID®: Multimodal biometrics identification system uses biometric matching algorithms to deliver ready access to varied modalities in identification management, including fingerprint, palmprint, face, voice and iris matching capabilities.